Andy Pavlov, pijanista i kompozitor, predstavlja novi album pod nazivom ,,Me and My Love on the Road
to Honduras'' sa podnaslovom "The Minutes After Infinity for Piano Solo", u izdanju Universal Music
Serbia.
"Ovaj album je Dnevnik Jedne Velike Ljubavi", objašnjava Andy Pavlov, koji je inspiraciju za ceo projekat
pronašao u zamagljenom periodu svog života, gde je sve što je do tada poznavao isparilo, a zapravo se iz
toga rodila velika ljubav, dom i novo razumevanje sebe.
,,Me and My Love on the Road to Hounduras'' čini 6 kompozicija – The Boys from the East, There's No
Reason to Cry, Requiem for My Soul, Taking and Leaving Off, Your Heart is Melting, i poslednja Me and
My Love on the Road to Honduras.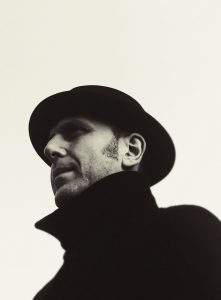 Andy Pavlov je novo lice na muzičkoj sceni, ali samo zbog svog novog ,,imena''. Iza se zapravo krije
Andrija Pavlović, priznati muzičar i umetnik, koji se svetskoj publici predstavio najpre kroz izuzetno
uspešan projekat LP Duo.
Andrija Pavlović je završio osnovne studije klavira i specijalističke-postdiplomske studije savremene
kamerne muzike (klavirski duo) na Fakultetu muzičke umetnosti u Beogradu, a zatim i master studije na
Visokoj školi za muziku i pozorište u Roštoku (Nemačka). Suosnivač je i pijanista klavirskog dua "LP Duo",
jednog od osam najboljih na svetu, koji je izveo više od 200 koncerata u Evropi i SAD, među kojima je i
nastup u dvorani Carnegi Hall u Njujorku. Bio je osnivač i član alternativne pop grupe "Ola Horhe" sa
kojom je nastupao širom regiona. Komponovao je muziku za nekoliko pozorišnih predstava, TV emisija,
animiranih filmova i plesnih koreografija. Suosnivač je manifestacije Festival Belgrade Keybord Days
2014. udruženja "Centar za novu umetnost" koje se bavi umetničkom produkcijom i izdavaštvom. Bio je
urednik i voditelj muzičkih emisija "Duboka ilegala" i "Klasičnjaci" na Radio SKC. Profesor je na Novoj
akademiji umetnosti u Beogradu i predavač po pozivu širom sveta.