,,Syd, Roger, Richard, Nick and David – An Evolving Pink Floyd Playlist", je otvorena nastupom ,,Us & Them (Live at The Empire Pool, Wembley, London 1974)".
Lista će svakog dana biti menjana, a pesme koje će se naći na njoj variraju od alternativnh izvođenja hitova do manje poznatih pesama iz ogromnog opusa benda.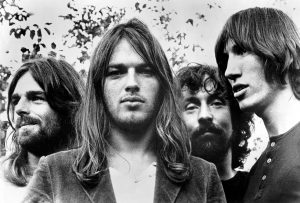 ,,Nadamo se da ćete uživati u pesmama koje dolaze. Voleli bi da čujemo i neke predloge od vas", napisali su članovi benda Pink Floyd na zvaničnom Twitter nalogu.
Najavljene pesme:
Have A Cigar (Alternate Version) – ,,Wish You Were Here'' Immersion – 29. maj
Any Colour You Like (Live at Wembley 1974) – ,,The Dark Side Of The Moon'' Immersion – 5. jun
Run Like Hell (The Wall WIP pt2 Band Demo) – ,,The Wall'' Immersion – 12. jun
Money (Early Mix 1972) – ,,The Dark Side Of The Moon" Immersion – 19. jun